The 174 Hz frequency is the first and lowest frequency on the Solfeggio scale. This frequency is associated with pain relief and the healing of tension and stress in the body. It is considered a natural anaesthetic and therefore useful for those in convalescence and recovering from injury.
The healing frequencies of the Solfeggio scale have a mysterious history that dates back to the 10th century. However, it is thought that this music tuning was used in ancient Greece and in other ancient societies.
Each frequency on the scale corresponds to a number of benefits on mind and body. These benefits include better sleep, cellular healing, toxin cleansing, energy healing (chakra balance), spiritual consciousness, and more.
Music has the power to change emotions, to take us from sad to happy and vice versa. Sound healing targets specific conditions with specific types of music, and the Solfeggio scale is a common point of reference for this therapy.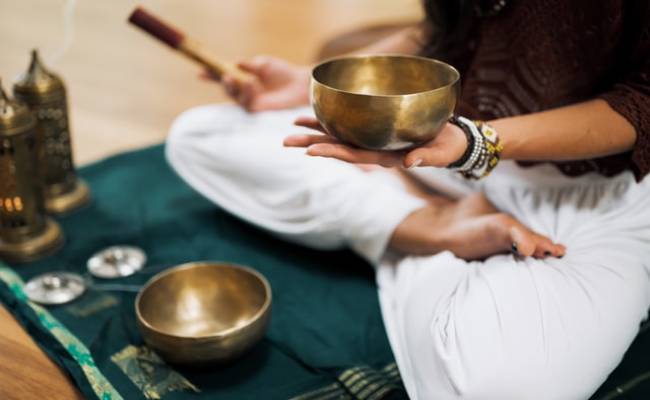 174 Hz Music Overview
174 Hz is one of what we call the modern Solfeggio scale frequencies. This is because originally there were six uncovered from historic sources such as the Gregorian Chants, and then a further three discovered in the last century.
We have a full Solfeggio history lesson on the subject on this page.
Pain Relief & Healing
Being the lowest tone, 174 Hz affects us on the lowest plane, which is our physical body and energy. As mentioned in the introduction, the 174 Hertz frequency is primarily considered a deep relaxant, and as such is widely used for pain relief purposes.
It is useful to listen to 174 Hz music when you need to heal, be that from a muscular injury or surgical operation.
For those dealing with illness and disease that causes chronic pain, 174 Hz music can be listened to as part of a treatment plan. Of course one should continue with prescribed medication.
Relaxation
As a relaxing frequency, you can listen for meditating, to help you drift off to sleep, and to simply relax and relieve stress and tension.
For athletes such as runners and football players, and for those who like to work out, 174 Hz is a good post performance muscle relaxant and will help with the recovery process.
Energy Rebalancing
The energy 174 Hz affects is both internal and external. The external refers to the aura, which is the invisible energy field that surrounds all living things.
An example of an aura at work is when you meet someone and get a good or bad vibe about them. Sometimes your intuition radar picks up on energy that you do or don't like. You can feel it but you can't see it, yet it influences how you feel.
Some people are more in tune to sensing auras  than others, but all humans have the ability to tap into this.  Some people are said to be able to see the colors of a person's aura, too.
It's easy to know when someone isn't quite themselves. Despite having a smile on their face, you can feel that something isn't right. This is because their emotions are imbalanced, which affects their hormonal balance and the subsequent performance of their organs and internal energy system (the Chakras).
The 174 Hz frequency seeks to balance that energy from the inside out, by providing the internal systems with a sense of balance and comfort. This results in feeling calmer, happier and more positive.
174 Hz Benefits Summary
Helps with relief of mild to chronic pain. Particularly useful for back pain, leg pain, migraines and muscular pain.
Encourages a sense of security and comfort from the inside out. Starts with emotions and internal organs and works externally to rebalance your the energy of your aura (external energy field).
A relaxing frequency that can help you sleep better, destress and unwind, and even meditate with more presence and focus.
To benefit from this frequency, simply download some music that has been created at this frequency of the scale. Then, sit back, relax, put your headphones on and press play. That's it!